In today's digital age, the way you express your business to the world is everything. In just a few seconds, your client needs to know exactly what they can expect when choosing you over your competitors. 
Branding is a complex concept – it is the process of identifying, designing, and managing aspects of your company or organization to shape the perception of your brand in the minds of the community. This can be done through visual design, verbal language, and any interactions the public has with your brand.
In business, it's important to set yourself apart from the competition, convey your story, and create a connection with your community. Let's dive in and see some real-life examples of how this is done.
Set Yourself Apart
Your brand sets you apart from the crowd – it helps you stand out and shows what makes you and your business unique. With the average person seeing 4,000 to 10,000 ads per day, companies are investing heavily in branding as a way to break through the noise. Creating a brand that is visually appealing and educates the average consumer quickly helps the world understand who are you are and what you stand for. 
Real-Life Example: Brandfolk
Promotional Solutions approached us about redesigning their brand. They felt they were more than just the products they created: they were a company with years of meaningful expertise who formed long-term relationships with their clients and helped them tell powerful stories.
We developed a name and brand that represented their philosophy, with a focus on people, being memorable, and standing out amongst other promotional groups. Brandfolk was born!
Tell a Story
Ultimately, branding should tell a great story. The world needs to know your journey. You need to set yourself as an authority and show that your customer can trust you to take care of them. You're here to improve their quality of life and provide an excellent product or service – we know that and you know that, but your customer doesn't yet. Help them trust you with a brand ecosystem that shows they can count on you when it comes to the most important parts of their lives. Some companies, like storytelling agencies, work with businesses to help capture their impact and share it with the world.
Real-Life Example: Railyard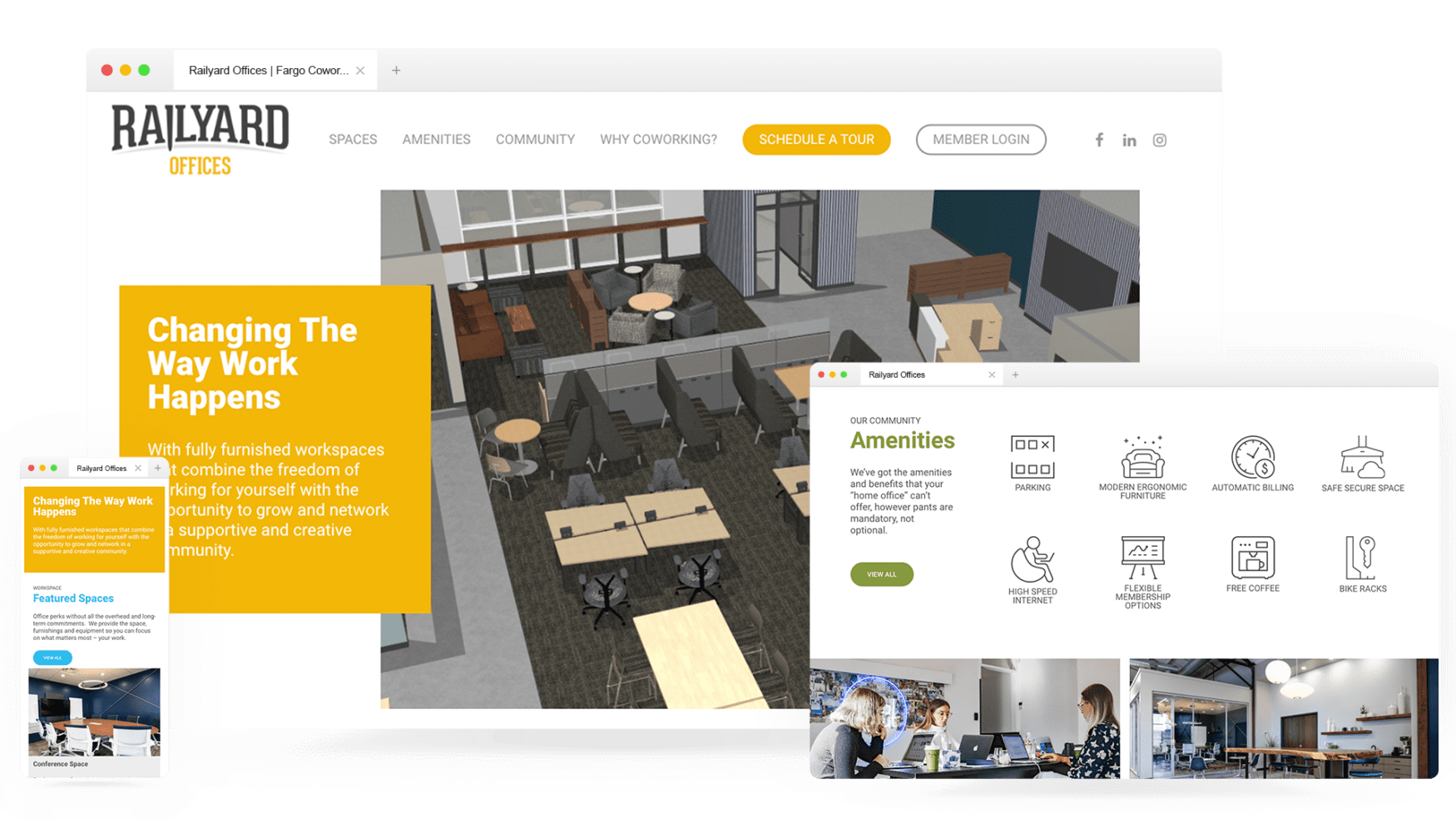 The agricultural history of North Dakota runs deep, and we wanted to reflect this in the branding for Railyard – a co-working space in Downtown Fargo that sits on an old railroad track.
The yellow calls attention to the rich agricultural past while conveying a warm, welcoming feeling. The black is a nod to the history of the location, in addition to the subtle railroad stake used as the "I".
A user-friendly web experience is also crucial for a co-working space, so we made sure their website is easy to navigate and set up a membership.
Create a Connection
Your customers are not blind. They see the impact that companies and organizations have in our world: economically, socially, and environmentally. Nearly two-thirds of consumers want brands to connect with them. Cultivating a community around your company helps folks connect with your mission, boosts brand recognition, and shows what they can expect from working with you. They want to feel close to you, and you should want that!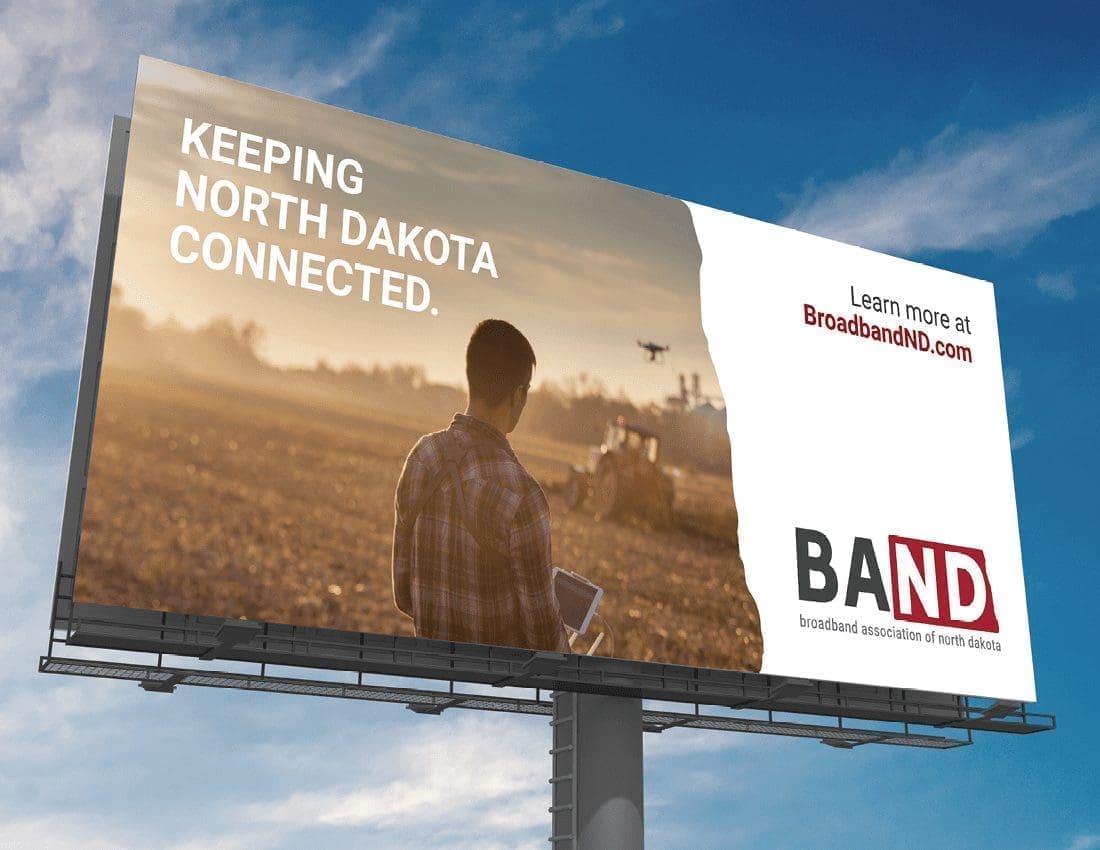 BAND, the Broadband Association of North Dakota, represents members of the independent broadband industry from across North Dakota.
North Dakotans are proud to be North Dakotan. We all share a common ground, a rock-solid work ethic, and an "I got your back" mentality. BAND wanted their new branding to portray those solid, rural North Dakotan values.
The visual concept is a nod to BAND's ND roots, and by using the shape of the state we created a signature look that fosters a sense of loyalty and local love. Bold, capital letters and a sturdy typeface communicates a down-to-earth mentality, with a minimalist look that is straight forward; just like a North Dakotan.
You're Not Alone – We Can Help!
You're probably thinking, "branding is a lot of work", and you're right, it is. But that's why there are marketing agencies and studios that specialize in this kind of thing. That's where we come in. Hey there, we're Tellwell Story Co.
Let's Tell a Story Together
We're a film + branding creative studio located in Fargo, North Dakota that specializes in storytelling for brands across the country. Let's chat and figure out how we can support your next branding project.