Working at Tellwell definitely has its perks: adorable office dogs, bottomless La Croix (and Spindrift and Waterloo), frequent happy hours. But don't let the puzzle table and bean bag chairs fool you—it's not all fun and games here at Tellwell HQ. 
Every day we show up, buckle down, and get to work. With such a small team, there's no room for slackers; our existence as a company depends on every individual knocking out projects on time, and up to our standards.
Simply put, we get shit done. 
"Get Shit Done" is our eighth and FINAL Core Norm, the values that dictate why and how we do what we do at Tellwell. We have decided to share one Core Norm with you a month, complete with examples of how we live out these norms on a daily basis.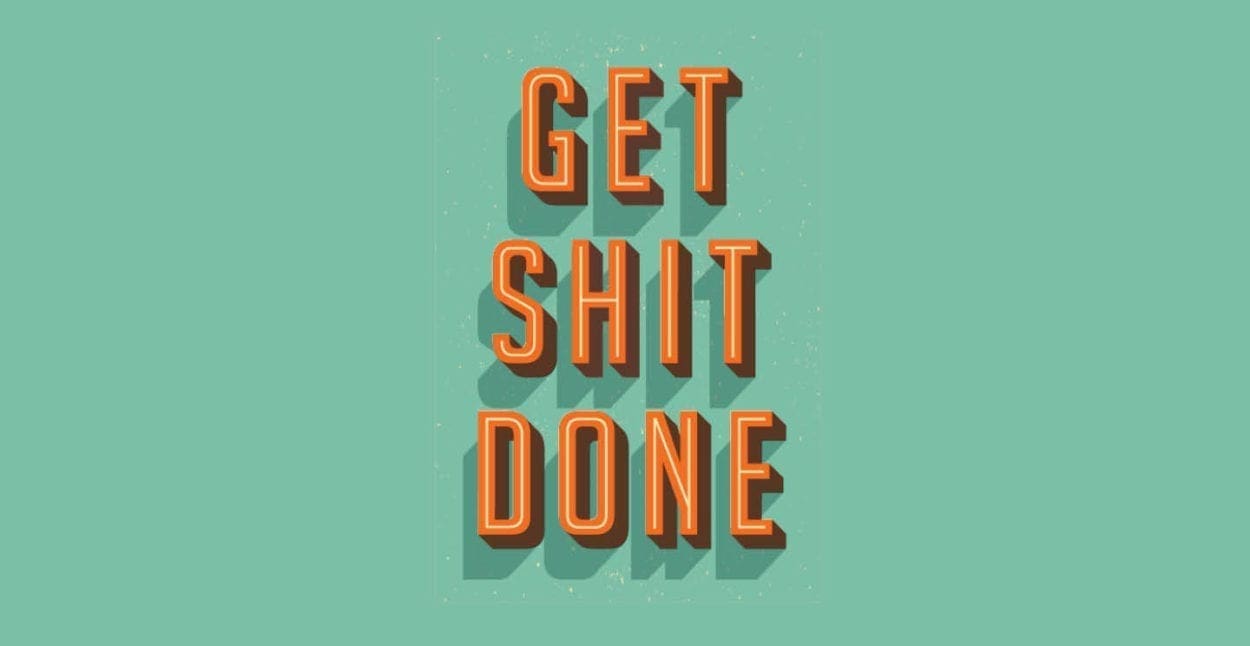 As our Engagement Manager, Jayme knows this Core Norm better than anyone. She works day in and day out to keep the rest of us in line and on schedule. Here's her definition of "Get Shit Done": 
"We work hard, play hard, and turn to-do's into to-done's—even if it means putting in extra work!"
It's not unusual to drive by our office at 9 p.m. or on a Saturday morning and see lights on–there are countless stories of Tellwellians going above and beyond to knock out a project! Take, for example, MLGC's website refresh earlier this year. The content and design had all been approved throughout the several-month process, but when we revealed the finished product, it did not match MLGC's vision.
The easy response to this would have been "Well, we've already used all of our budgeted hours for this project, so take it or leave it." But instead, we took this opportunity to get shit done. Noah, Riley, Jayme, and Max rolled up their sleeves and created a brand-spankin' new website from scratch. It took several late nights and a few gallons of coffee, but four weeks later, MLGC had a website that they loved.
Or look at what happened when COVID-19 hit. On top of our existing projects, our team stepped up to help clients communicate important information to their communities—writing press releases, creating website pop-ups, and even producing a virtual annual meeting.
Daily 16s (or, The Pomodoro Technique!) (or, the Tomato Timer!)
But getting shit done isn't just about staying late to finish a project or taking on an extra task for a client. It's about the small decisions we make every single day to ensure that we don't have to put in those extra hours.
You've probably heard the phrase "Perfect is the enemy of the good." In creative work, it can be all-too easy to spend an hour on a task that should only take a few minutes—tweaking a banner image on a website until it is juuuuuust right, or searching for the perfect synonym for "provide" (guilty). But this perfectionism wastes time, and at the end of the day, a finished project is better than a perfect one.
To hold ourselves accountable and make the best use of our time, especially while working from home these past few months, we've started implementing Daily 16s.
Daily 16s is a time management technique in which you divide your workday into 16 half-hour increments. Max was initially convinced that he had invented this method, but it turns out that people have been maximizing their productivity this way for years under a different name: The Pomodoro Technique. 
The Pomodoro Technique encourages you to work with the time you have, rather than against it, by breaking your day into 25-minute chunks (pomodoros) separated by five-minute breaks. After four pomodoros, you earn a longer, 15-20 minute break. 
"We work hard, play hard, and turn to-do's into to-done's—even if it means putting in extra work!
The whole point of the Pomodoro Technique (or Daily 16s, as we call them) is to instill a sense of urgency. Each 25-minute chunk is assigned a micro-goal: "Write 150 words," "Update banner photo," or "Send 3 project updates." Instead of feeling like you have infinite time in your workday to spend tweaking some tiny thing that only you will notice, you know you only have 25 minutes to knock out that one micro-goal. 
Several members of our team have started using the Focus To-Do app, which allows you to set a timer for each pomodoro and break. Not only does this technique result in more shit getting done by the end of the day, it also improves overall well-being by forcing us to take breaks.
It's easy to get deep in the zone and spend hours staring at your computer without looking up, let alone eating or drinking. When the timer starts beeping at you, you remember to get up, get some water, and refresh your brain before getting back to work.
Here at Tellwell, we believe in the power of working hard AND working smart—and yes, we do have some fun along the way. That, my friends, is what "Getting Shit Done" means to all of us at Tellwell.
Thanks for following along with our Core Norm blog series! We hope that you've been inspired to consider why you do what you do.