In a series I am creatively calling, "Meet Team Tellwell", I sit down with Tellwell's brightest minds to chat about who they are, what makes them tick, and what gets them excited about coming to work every day. 
In this article, I chatted with Katie – a Cobber, book worm, and incredible storyteller. Read more to learn more about what makes Katie tick!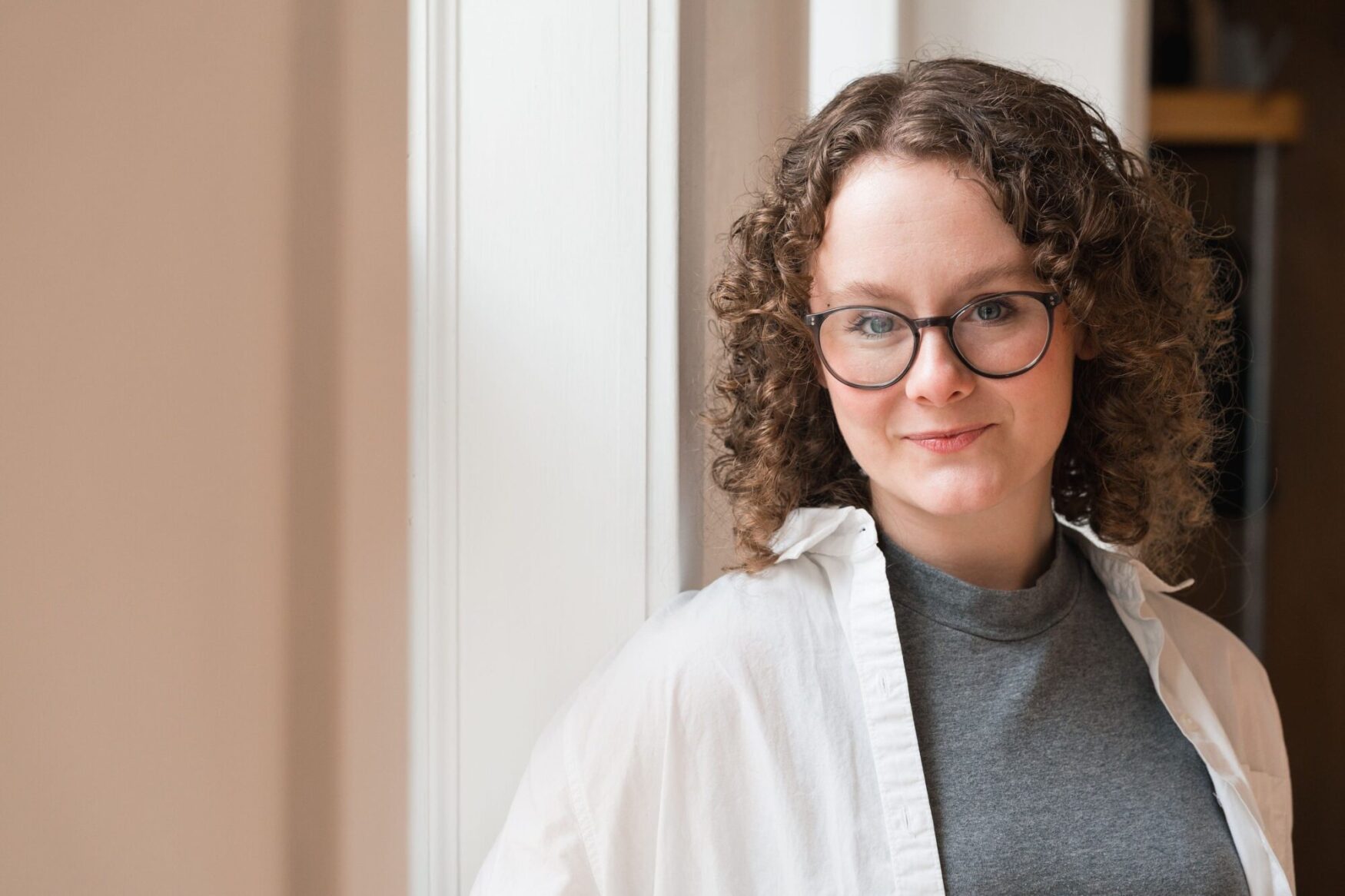 Hi, Katie. Tell me about yourself?
I'm Katie! I'm a Spud turned Cobber (I just love a vegetable mascot, what can I say?). My husband, Isaac, is a choir director and composer. In addition to a love of music, we also share a cat named Kezia who is absolutely perfect. And I've been with Tellwell for four years as of this July!
If a stranger approached you and asked you to describe yourself… what would you say?
I'm aggressively earnest, fiercely loyal, and deeply uncomfortable talking about myself.
As you spend time here at Tellwell, what is your big goal?
My ultimate goal is to tell important stories in a way that is honest and authentic. It doesn't matter how beautiful a website looks or how compelling an impact film is–if it's not true to the client and their unique story, we haven't done our job.
Let's chat more about you outside of work. What are some things that make you happy?
Reading (I'm currently obsessed with Elena Ferrante's Neopolitan Novels), cooking and baking for people I love, being in nature, playing Animal Crossing: New Horizons, hanging out at local breweries, and going on adventures with my film camera.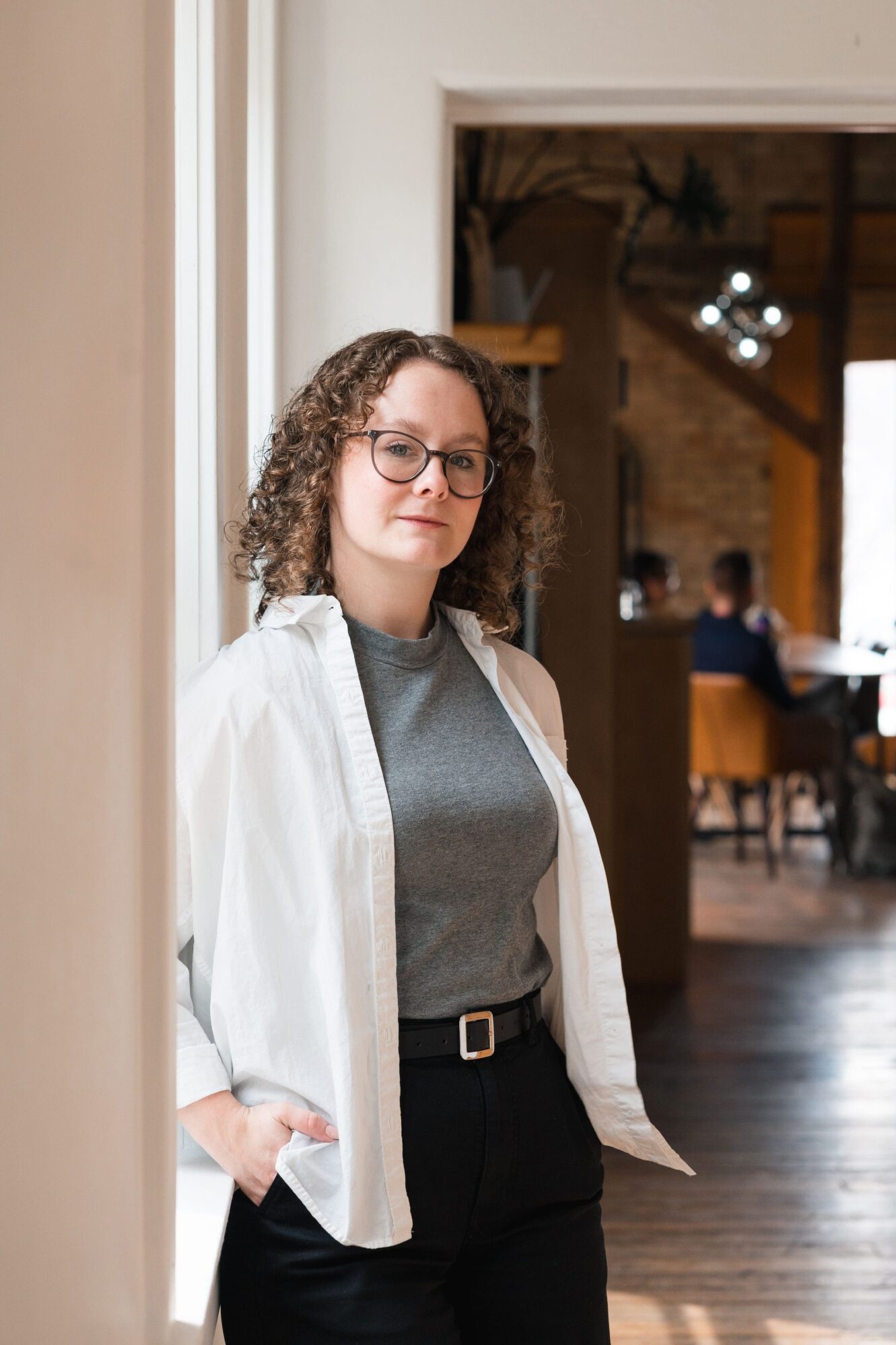 We love our community here in Fargo, what are some things you do to get involved in the area?
I'm on the core team of volunteers for Plants for Patients, a local nonprofit advocating for reproductive justice and promoting compassion through plants. I also sing with the FM Choral Artists–being able to create music with a wonderful group of people once a week is a great outlet.
What is your favorite place in Fargo right now?
Bernbaums. <3
What's the most memorable food experience you've ever had?
There are few things I love more than a really butter, flaky croissant, and I recently had the best of my life at a cafe called Elevenses in Queens, NY. Isaac and I went back twice during our recent trip to NYC and left each time with a box full of delicious pastries to try. I will dream of their Morning Bun until my dying day.
Do you have a weird thing you're passionate about?
THE EM DASH. It's my favorite punctuation mark-as you can probably tell reading through these answers. Sure you could use a comma or parentheses, but they just don't have the same oomph, ya know?
What's a few of your favorite albums?
THIS IS IMPOSSIBLE. If I had to pick one favorite album of all time, it would be The Firewatcher's Daugther by Brandi Carlile. Two other albums I've had on a constant loop lately are Stick Season (We'll All Be Here Forever) by Noah Kaha, and The Record by boygenius.
Where's the coolest place you've ever visited?
In the summer of 2017, while studying at the University of Oslo, I had the truly unforgettable experience of hiking in Jotunheimen National Park-surrounded by mountains, crystal clear lakes, and REINDEER! It was incredible.