In a series I am creatively calling, "Meet Team Tellwell", I sit down with Tellwell's brightest minds to chat about who they are, what makes them tick, and what gets them excited about coming to work every day. 
In this article, I chatted with a Senior Account Manager, Mark, about who he is, what he's passionate about, and his experiences in life. Check it out!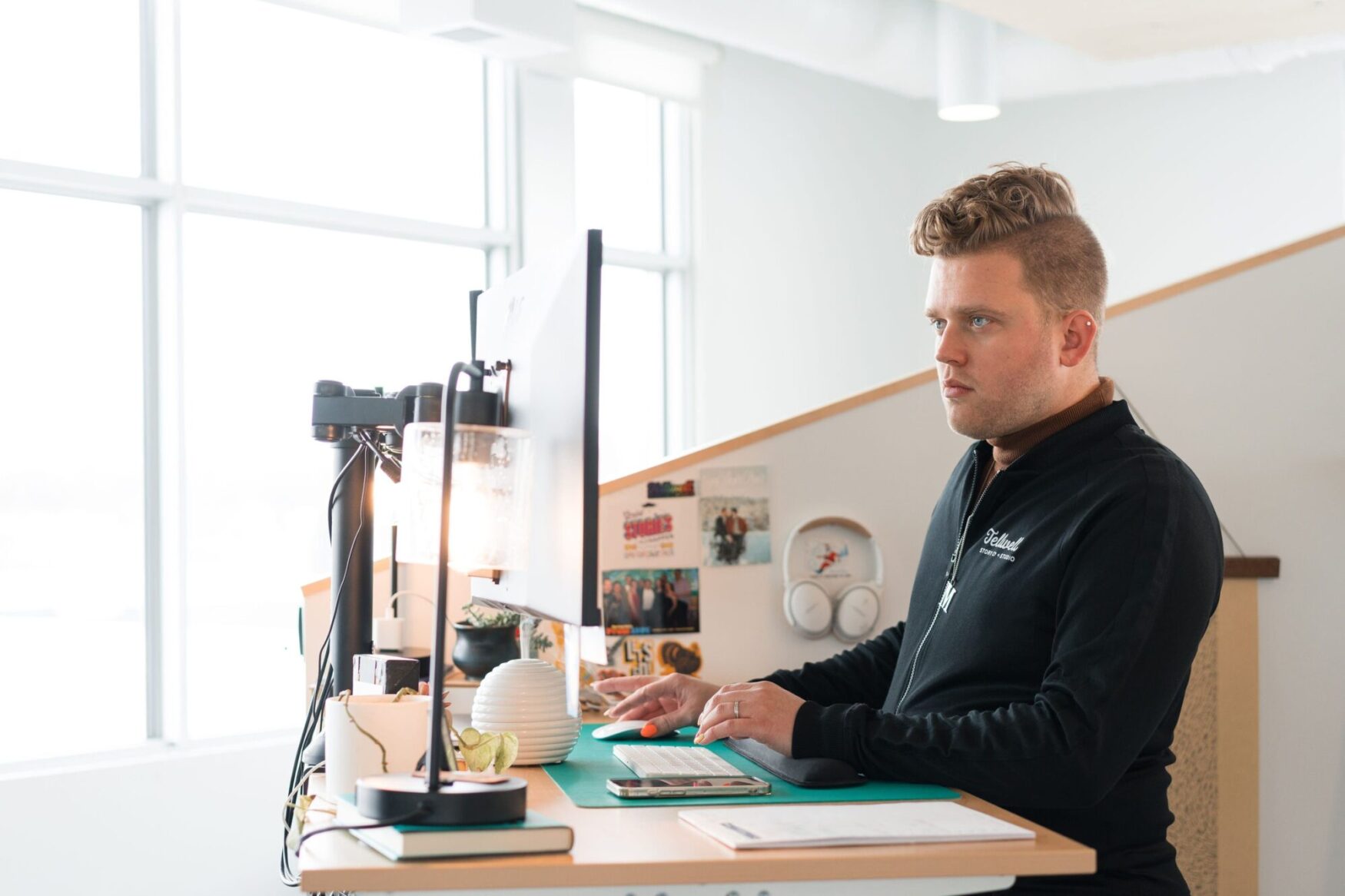 Hi, Mark. Tell me about yourself!
Hi friends! I grew up in Holmen, Wisconsin, a small but active community outside of La Crosse. Post high school, I attended the University of Wisconsin- Eau Claire, where I double majored in Organizational Communication and Sociology. Following graduation, I worked at UWEC for 5 years + completed my masters in Servant Leadership- Nonprofit Leadership from Viterbo University in La Crosse. I have slowly migrated further northwest over time, with a year in Minneapolis before finding my way to Fargo in the fall of 2020.
I was involved in lots of activities as a young person, which has carried into having many things I love to do as an adult! I grew up performing and love to continue to do things in the arts. I choreograph + clinician show choirs across the midwest and sing in the Fargo Moorhead Choral Artists. I was a big athlete growing up and fell back in love with running over the last couple years, completing my first marathon this past October. I love spending time outside with my husband, Nick, and our pack of animals. I enjoy hiking, days at the lake, bike rides, reading a good book, and exploring new places!
If a stranger approached you and asked you to describe yourself… what would you say?
Oh gosh…… I would describe myself as optimistic, encouraging, energized, and an overall sunny human being, with a hint of sarcasm.
As you spend time here at Tellwell, what is your big goal?
One of my biggest goals at Tellwell is to create efficiency in the way we do our work. I want our team to have all the support they need to do their work well + want our clients to have the best experience sharing their stories with our team.
On a nerdy level, I want every single thing we do in Asana (our project management system) to have a person, deadline, and details assigned at all times. I can dream, right?
Let's chat more about you outside of work. What are some things that make you happy?
Sunshine. A good concert. Live theater. Friend time. Running around the back yard with our dog, Nora. Binge watching every season of RuPaul's Drag Race, Broad City, and Gilmore Girls on repeat while snuggling with our cats, Molly + Minnie. Good beverages. Traveling to new places. Discovering a new restaurant. Babies + puppies. Teaching young people.
That about covers it.
We love our community here in Fargo, what are some things you do to get involved in the area?

I have been a member of the Fargo Moorhead Choral Artists for the last 2 years, which has been so lovely. Great community of musicians and an overall awesome creative outlet. I love running the trails along the river (when the weather is nice), taking in weekly events like StartUp Brew and the Farmer's Market, and exploring town through food and drink. We have lived here over 2 years and I still feel like I have so many things to try still!
What is your favorite place in Fargo right now?

I think my favorite places would be Bernbaum's, Bear Creek Winery, and my front porch at sunset in the summer months!
What's the most memorable food experience you've ever had?
OH YES, I have a good one. This past November, my husband and I got married in Sitges, Spain and spent 2 full weeks celebrating and exploring across Europe. We spent a few nights in Florence, Italy and had the most incredible experience at a restaurant called
Ora D'aria
. We enjoyed a 6 course tasting menu, curated wine parings, and dessert over 3 hours of pure bliss. The whole experience was magical.
Do you have a weird thing you're passionate about?

Show Choir. While it may not fully be a thing here in the lovely FM area, it is alive and thriving in other parts of the midwest + across the country. I choreograph for 3 groups over the year and spend many weekends in the winter, judging competitions + supporting my groups. It keeps me super active while allowing me to create in a completely different way than I do in my full time job!
What's some music you've been listening to lately?
THIS IS SO DIFFICULT.
1. Maggie Rogers "Heard It In a Pastlife"
2. Beyonce "Lemonade"
3. Bon Iver "Bon Iver"
Honorable Mentions: Lizzo "Cuz I Love You", The Staves "The Way Is Read" and Lucius "Second Nature"
Do you have a favorite or memorable vacation or trip you've taken?
Sitges, Spain. Gorgeous location, incredible food + drink, and lovely people!