In a series I am creatively calling, "Meet Team Tellwell", I sit down with Tellwell's brightest minds to chat about who they are, what makes them tick, and what gets them excited about coming to work every day. 
In this article, I got to sit down with Account Manager extraordinaire, Megan! She's a cobber, she's an organizer, and she's a dog lover. I'll let her tell you more…
You've been with us just over a year, Megan. Tell us about yourself!
Whaddup! My name is Megan Hovinen. I grew up in Cambridge, Minnesota (go Blue Jackets!) and came to the F-M area for school (Roll Cobbs!). In my spare time, you can catch me at Junkyard serving beers. My hobbies include long walks with my corgi, CJ and my husband, Wyatt, laying on the couch with my cats Bailey and Murphy, and CJ, and bringing CJ everywhere I go whether it is socially acceptable or not. Did I mention my corgi CJ?
If you had to describe yourself to a stranger, and I know you love to chat new people up, what would you say?
I'd describe myself as an aggressive lover of corgis, cats, and sunshine.
As you spend time here at Tellwell, what is your big goal?
I love systems and process and organization, so my #1 goal with every project is to make it an enjoyable experience for all involved (clients and team members) through smooth workflows.
Let's chat more about you outside of work. What are some things that make you happy?
I love to spend time outside and explore new places. Any time I go anywhere I hunt down wherever I can find the best food. And finally – I can barely consider this "outside of work" because she's at work with me every day – CJ, my corgi brings me so much joy!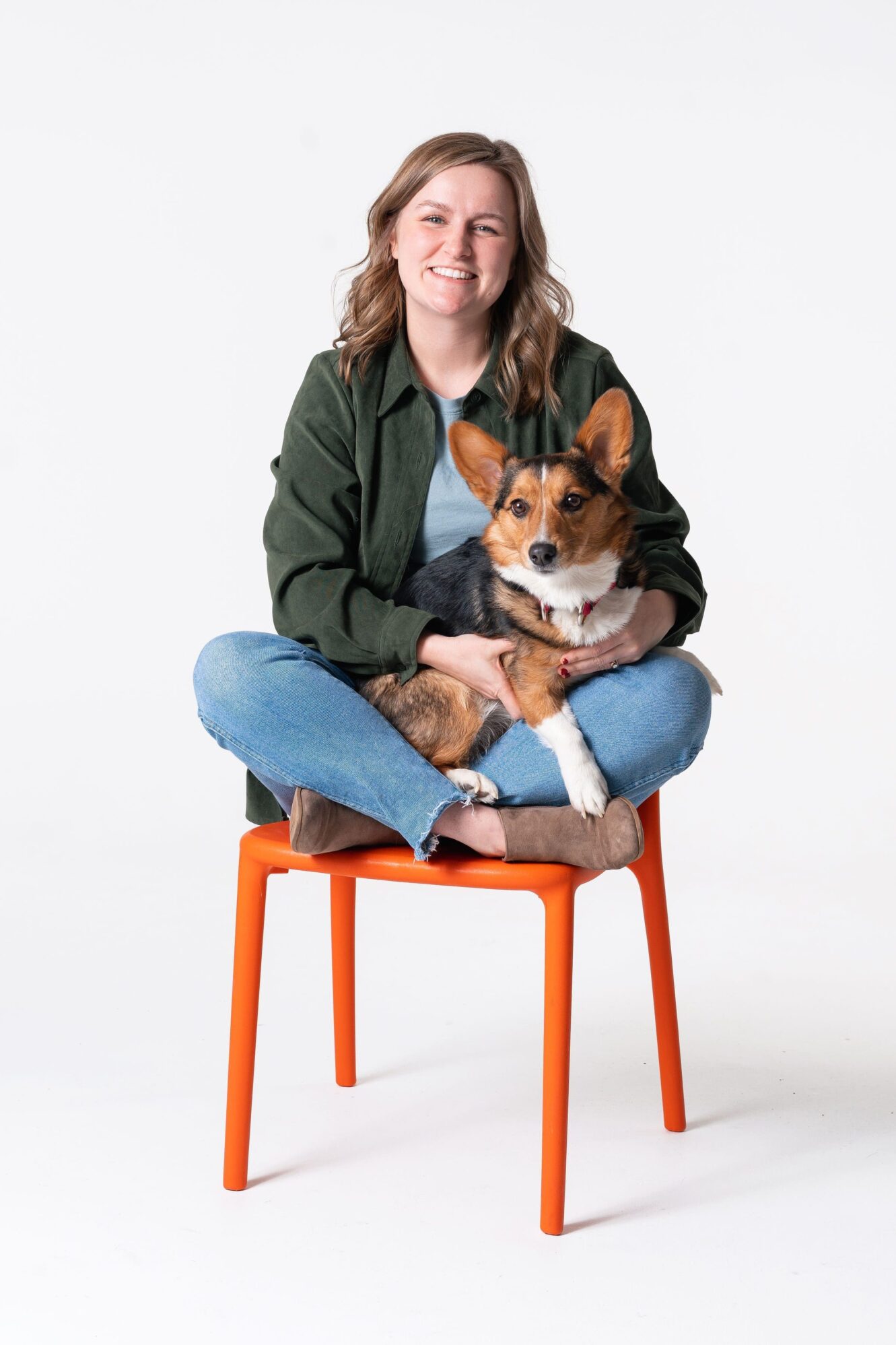 We love our community here in Fargo, what are some things you do to get involved in the area?

I've been involved in the theatre community here since college. Last summer I was in Legally Blonde with Stage West where CJ made her theatrical debut (my baby is a star!). I've also been in other area productions such as Little Women, Mamma Mia, and Young Frankenstein.
What's your favorite place in Fargo right now?

One of my favorite places is Twenty Below in Fargo. Great people and atmosphere.
I know we've bonded over our love of food before – what's the most memorable food experience you've ever had?
Bar la Grassa in Minneapolis – The gnocchi is my favorite dish I've ever eaten ever.
Do you have a weird thing you're passionate about?

How do I say Taylor Swift theories and easter eggs without sounding like a stereotype?
I feel like I know the answer to this question… but what are your top three albums?
According to Spotify, my top albums were – – Red (Taylor's Version) – All Too Well (10 Minute Version) (Taylor's Version) was my top played song of 2022 – Midnights – Also Taylor Swift… I'm very original – And just when you sensed a pattern, my third top album was Shrek the Musical Original Broadway Cast (because I directed it in the fall and had to research)
Do you have a favorite or memorable vacation or trip you've taken?
It's a firm tie between Iceland and Amsterdam (and yes, I do know that I just named an entire country and one city). I spent a few days in Amsterdam in college and it was just my favorite place to explore. Then on our honeymoon, Wyatt and I went to Iceland and spent a few days traveling around the southern coast and a few days in Reykjavik #smokeybay. Such a cool place with unique geography and food!